Viewing
To some mourners, a viewing is most important. It can be due to religious beliefs or cultural traditions, or it can allow you to acknowledge the reality of the death and gives you the opportunity to say your goodbys. The decision to have a viewing is an individual one. It is important to decide who you would like to attend a viewing. It could include family, close friends or both.
Orders of service, bookmarks & thank you cards
At TR Brownjohn Memorial Home, we pride ourselves on the high quality and standards of special keepsakes for family and friends. These come in many different forms—any idea you have can generally be accommodated.
An order of service (booklet) has a photo of the deceased on the front page along with their name, date of birth, date of death and information regarding the place and time of the Memorial Ceremony. The booklet comes in A5 size (which is an A4 sheet of paper folded in half), you can add extra sheets to fit more photos, poems, etc. if required. The second page of the booklet usually has the order of the proceedings of the service. The third page could be used for a poem or photos. The back page usually contains a thank you section for people attending, wake details (if applicable) and photos.
Some people would rather have something they can use after the service on a day to day basis, so we offer customised bookmarks. These are a great idea and usually have a photo of the deceased, their name, date of birth, date of death and service details. On the back of the bookmark, you can have a poem or simply leave it blank—the decision is entirely yours.
The people organising the Memorial Ceremony can often be overwhelmed with the support they receive following the passing of their loved one in the way of cards, flowers, donations, etc., and they like to send out thank you cards for showing their appreciation. We can also design and print these for you to distribute.
Canvas print of framed photo
At TR Brownjohn Memorial Home, we are honoured to be able to offer you the opportunity to have your favourite photo of your loved one printed on canvas and framed for the Memorial Ceremony. This is a beautiful keepsake, and if you require more prints for others, this can also be organised. Alternatively, we can frame your favourite photo for you as a keepsake.
Wake arrangements
Most people like to organise to meet up with the people who have taken the time to attend the Memorial Ceremony. This is traditionally known as a wake. At TR Brownjohn Memorial Home we can make it easy for you and do all of the arrangements for you. We will discuss what venue would suit you and your family, taking into account a number of people you will be expecting, menu options and pricing.
You will also be offered the opportunity to place the wake onto the invoice, which is one less thing you have to worry about, or you may prefer to finalise the bill for yourself at the venue.
Special tributes
If the deceased has been a member of the Australian military, the family may request an RSL Tribute that includes the laying of poppies for the family and ex-servicemen. We will also supply an Australian Flag which will be placed over the coffin/casket.
Other tributes the families may request include Masonic, Rotary, Legacy and Rural Fire Brigade. If you request a special tribute we can make all of the arrangements for you or we can assist you with information.
Donations In Memorium
Many people like to request donations to an organisation or group in lieu of floral tributes, envelopes can be provided so people can make a contribution to your nominated organisation if they desire. TR Brownjohn memorial Home can forward the donations for you or guests may prefer to send it themselves.
Spiritual, cultural & religious requirements
Brownjohn Family Funerals understands that due to people's culture, spiritual beliefs & religious beliefs, it may be necessary to carry out specific ceremonies before, during or after the Memorial Ceremony. We will do our best to understand your needs and make arrangements to accommodate them.
Births, deaths & marriages
When making funeral arrangements, we are required by law to obtain information about the deceased for the Death Certificate. Listed below is a list of questions we ask. If you do not know, we will indicate with "Unknown".
First name
Other name(s)
Last name
Last name at birth
Date of birth
Residential address
Place of birth
Date of arrival in Australia (if applicable)
Usual occupation during working life
Main tasks usually performed in that occupation
Retired
On a pension
Type of pension
Marriage(s) (from most recent to oldest), including place of marriage, age when married & spouse's name/s
(including surname at the date of marriage).
Children's name(s) and dates of birth, from oldest to youngest
Parents' names (including surname at the time of birth) and usual occupation
(including main tasks performed) during working life.
Grandparents' names (including surname at the time of birth) and usual occupation
(including main tasks performed) during working life.
Only you know what type of Memorial Ceremony you would like to have.
Only you know the values that you treasure the most.
Only you know that an Iris is your favourite flower.
Only you know that Bono's voice makes your heart melt.
Only you know who you really are.
Knowing that, you can amend your plan at any time.
Let us be your guide as well as your family's guide on this path.
DOWNLOADABLE PDF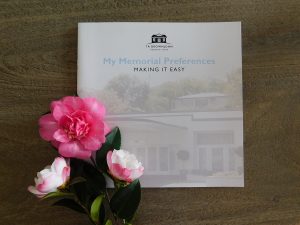 There is no second best.  There is no second chance.  There is no "almost right".  There is no "we tried out hardest". There is only the perfect Memorial Ceremony.
Our Memorial Ceremonies are like your loved ones – unique and one of a kind.
If you require our full information pack,
please visit us at 73A Lurline St, Katoomba, 2780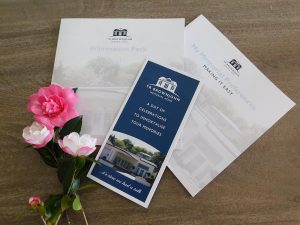 Viewing

To some mourners, a viewing is most important. It can be due to religious beliefs or cultural traditions, or it can allow you to acknowledge the reality of the death and gives you the opportunity to say your goodbys. The decision to have a viewing is an individual one. It is important to decide who you would like to attend a viewing. It could include family, close friends or both.

Orders of service, bookmarks & thank you cards

At TR Brownjohn Memorial Home, we pride ourselves on the high quality and standards of special keepsakes for family and friends. These come in many different forms—any idea you have can generally be accommodated.

An order of service (booklet) has a photo of the deceased on the front page along with their name, date of birth, date of death and information regarding the place and time of the Memorial Ceremony. The booklet comes in A5 size (which is an A4 sheet of paper folded in half), you can add extra sheets to fit more photos, poems, etc. if required. The second page of the booklet usually has the order of the proceedings of the service. The third page could be used for a poem or photos. The back page usually contains a thank you section for people attending, wake details (if applicable) and photos.

Some people would rather have something they can use after the service on a day to day basis, so we offer customised bookmarks. These are a great idea and usually have a photo of the deceased, their name, date of birth, date of death and service details. On the back of the bookmark, you can have a poem or simply leave it blank—the decision is entirely yours.

The people organising the Memorial Ceremony can often be overwhelmed with the support they receive following the passing of their loved one in the way of cards, flowers, donations, etc., and they like to send out thank you cards for showing their appreciation. We can also design and print these for you to distribute.

Canvas print of framed photo

At TR Brownjohn Memorial Home, we are honoured to be able to offer you the opportunity to have your favourite photo of your loved one printed on canvas and framed for the Memorial Ceremony. This is a beautiful keepsake, and if you require more prints for others, this can also be organised. Alternatively, we can frame your favourite photo for you as a keepsake.

Wake arrangements

Most people like to organise to meet up with the people who have taken the time to attend the Memorial Ceremony. This is traditionally known as a wake. At TR Brownjohn Memorial Home we can make it easy for you and do all of the arrangements for you. We will discuss what venue would suit you and your family, taking into account a number of people you will be expecting, menu options and pricing.

You will also be offered the opportunity to place the wake onto the invoice, which is one less thing you have to worry about, or you may prefer to finalise the bill for yourself at the venue.

Special tributes

If the deceased has been a member of the Australian military, the family may request an RSL Tribute that includes the laying of poppies for the family and ex-servicemen. We will also supply an Australian Flag which will be placed over the coffin/casket.

Other tributes the families may request include Masonic, Rotary, Legacy and Rural Fire Brigade. If you request a special tribute we can make all of the arrangements for you or we can assist you with information.

Donations In Memorium

Many people like to request donations to an organisation or group in lieu of floral tributes, envelopes can be provided so people can make a contribution to your nominated organisation if they desire. TR Brownjohn memorial Home can forward the donations for you or guests may prefer to send it themselves.

Spiritual, cultural & religious requirements

Brownjohn Family Funerals understands that due to people's culture, spiritual beliefs & religious beliefs, it may be necessary to carry out specific ceremonies before, during or after the Memorial Ceremony. We will do our best to understand your needs and make arrangements to accommodate them.

Births, deaths & marriages

When making funeral arrangements, we are required by law to obtain information about the deceased for the Death Certificate. Listed below is a list of questions we ask. If you do not know, we will indicate with "Unknown".

First name

Other name(s)

Last name

Last name at birth

Date of birth

Residential address

Place of birth

Date of arrival in Australia (if applicable)

Usual occupation during working life

Main tasks usually performed in that occupation

Retired

On a pension

Type of pension

Marriage(s) (from most recent to oldest), including place of marriage, age when married & spouse's name/s
(including surname at the date of marriage).

Children's name(s) and dates of birth, from oldest to youngest

Parents' names (including surname at the time of birth) and usual occupation
(including main tasks performed) during working life.

Grandparents' names (including surname at the time of birth) and usual occupation
(including main tasks performed) during working life.

Only you know what type of Memorial Ceremony you would like to have.

Only you know the values that you treasure the most.

Only you know that an Iris is your favourite flower.

Only you know that Bono's voice makes your heart melt.

Only you know who you really are.

Knowing that, you can amend your plan at any time.

Let us be your guide as well as your family's guide on this path.

DOWNLOADABLE PDF

My Memorial Preferences

There is no second best.  There is no second chance.  There is no "almost right".  There is no "we tried out hardest". There is only the perfect Memorial Ceremony.

Our Memorial Ceremonies are like your loved ones – unique and one of a kind.

If you require our full information pack,
please visit us at 73A Lurline St, Katoomba, 2780

Information Pack